3 Common Private Money Loan Myths, Debunked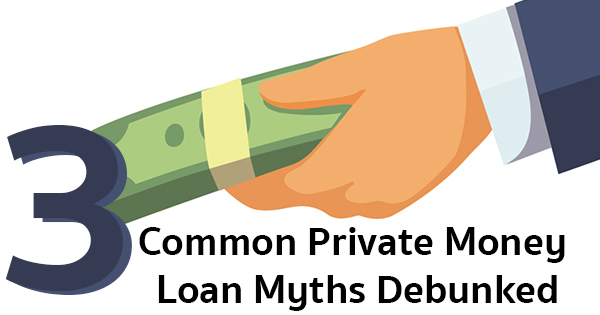 If you're looking for money for your investment fast, then you should consider contacting private money lenders. A private money lender will specialize in private money loans, which can give you the fast influx of capital you need for your projects of investments. However, there are a lot of myths surrounding these loans. You might not trust a private money loan because of them. To help you make a more informed decision, here is the truth behind common private money loan myths:
Myth #1: You Can't Get Funding In A Week
Actually, private money loans can be funded in a week; in fact, they can often be funded in less. This is only possible if the borrower and the broker give full cooperation and support in the task. Private lenders are able to get you the money fast as you need it, but some additional terms might be required.
Myth #2: Most Borrowers Seeking These Loans Are Desperate
This is very much false. The average private money borrowers are either individuals who are capable and successful or businesses that are the same. These entities are often presented with an opportunity that a traditional lending institute does not allow them to take advantage of, and so they seek private funding. Private money lenders look at collateral as the ultimate source of repayment and the borrowers capacity to repay. This means the borrowers need to have some form of wealth or assets.
Myth #3: Private Money Loans Are Expensive
Private money loans can be more expensive, but that is only one factor in the lending process. It will cost more than a traditional lender, and the loan terms are shorter than a traditional loan. Instead of one to 20 years like traditional lenders, private loans can only be granted up to five years. If the borrower can meet the requirements of the loan's repayment, or has collateral, then the loan is not too expensive. The cost of the loan is entirely dependent on the borrower. The lender will not, in most cases, give a loan that cannot be repaid. This means that it can't, technically, be expensive, as you would not get the loan if you could not repay it.
Hopefully, clarifying these myths has helped you form a more informed position on the subject of private money loans. If you have questions about private money lenders or loans, contact us. We'll be glad to help you.