3 Signs Your Hard Money Loan May Be a Scam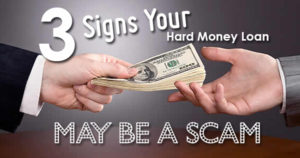 Before we begin, what exactly is a hard money loan? A hard money loan is, in simple terms, a short-term loan secured by real estate, or home equity. Typically, the amount home equity homeowners have increases as they get older due to the fact that most people buy their homes with 15-year or 30-year mortgages, and home prices have increased over time.
If you know you have equity in your home and you're looking for a hard money loan, it's important to be careful. There are many hard money lenders out there, and you want to make sure you find one that you can trust. Here some warning signs that could point you to that conclusion.
They claim they will fund anything
Trustworthy hard money lenders will decline loan requests for a multitude of reasons, especially if it seems very risky for them. A lender looking to rip you off will try to lure you in with unbelievable claims that they will fund any deal, no matter what. Experienced, trustworthy hard money lenders are typically selective about which loans they grant and will be up front with you about those loans, so don't be fooled.
Your loan is guaranteed
Most hard money lenders want to do an extensive background-like check before they approve you for your loan. They look at your credit to make sure the risk of default isn't too high. They also typically evaluate your property first to ensure that your property can hold up your end of the deal. If you're not jumping through at least a few hoops, it's likely that you're on the verge of losing some money.
They make you pay excessive fees upfront
Fees are normal for most hard money lenders, but if the fees are due upfront and are excessive, that's definitely a warning sign. Some scammers charge high upfront fees and then find an excuse not to fund the loan, leaving without reimbursement. Most legitimate lenders will refund part or all of your fees if the loan falls through.
When you are looking for a hard money loan, you should take caution and do your research first. If you spot any of the above behaviors, it may be time to look elsewhere for hard money lenders.