House Flipping is Coming Back to California in a Big Way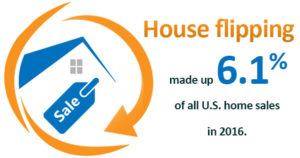 If a home sells at least twice in the same year, it's considered house flipping. House flipping strayed from the spotlight for a little while, but now it's coming back in a big way. In fact, house flipping made up 6.1% of all U.S. home sales in 2016.
House flipping is coming back in such a rapid fashion that now even banks are looking for ways to get involved. Investors who want to flip houses can now find appropriate vehicles to help them get started through banks. Right now the industry is relatively small for banks, but it's expected to keep growing, according to data from the Wall Street Journal.
But financing house flipping isn't exactly easy. More often than not, hard money loans are responsible for helping investors get off of their feet. Here's a little bit of helpful information about hard money loans and what they do.
You might be wondering, "how does a hard money loan work?" or "what is a hard money loan?" Fortunately the answers to both of those questions are fairly simple. A hard money loan is a short-term loan secured by real estate. Unlike other loans, they're funded by private investors. So if you're looking for answers as to how does a hard money loan work, the bank might not be able to help you out there.
Another frequently asked question is regarding hard money loan rates. There are many factors that go into a hard money lender's decision on this, but rates are typically anywhere from 2-10% of the loan amount as the loan fee. But interest rates can start at 15%, 18% or higher in some cases. Working with private money lenders might seem intimidating at first, but many house flippers ultimately take this route to ensure their financing for flipping a house.
While house flipping is great for the investors involved, it doesn't necessarily mean that the housing market is improving. In fact, it actually increases competition in the housing market for average home buyers. Fortunately, it also provides them with more upgraded features in the homes they're looking at.
Whether you're interested in house flipping or simply in how it's done, know that it's on the rise again.