Remarkable Opportunities for Investors
We've built our select group of trust deed investors on a foundation of transparency, accountability and long-term partnership. Let us show you the value we can create together.
Opportunity. Diversification. Results.
The California real estate market has created remarkable wealth for disciplined investors for many decades. Contact us to see if trust deed investments are right for you.
"Transparency and accountability are the hallmark to a successful investment relationship and that's what we deliver for our trust deed investors every day."

– Carl Maggio, Principal
Getting Started
Maggio Capital works with high net worth individuals, LLC's, corporations, self-directed IRA's, etc., looking to diversify their investment portfolio by investing in real estate. All loans are secured by residential and commercial properties located in California only.
Maggio Capital has been licensed by the California Bureau of Real Estate since 2010, Broker #01883341. If you are interested in learning more about trust deed investing or would like to schedule a call or meeting in person, please contact Carl Maggio at (858) 764-4436 or email him at This email address is being protected from spambots. You need JavaScript enabled to view it..
CONTACT US TODAY
Click to download a PDF of the California Department of Real Estate's Guide "Trust Deed Investments, What You Should Know!":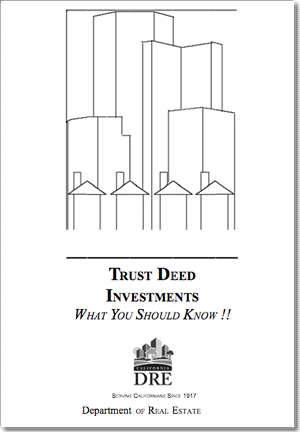 Start Growing Your Investments Today!
Contact us to learn more.